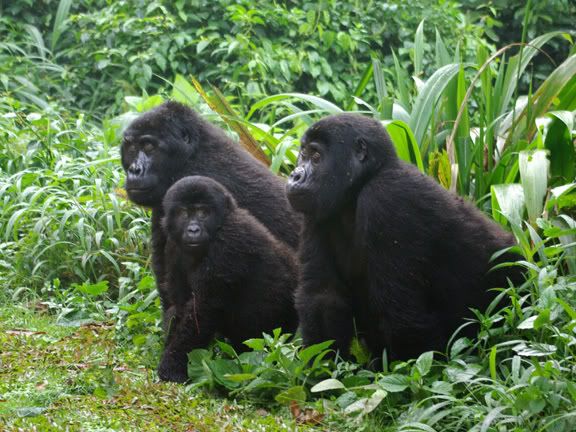 Trekking among the 320 endangered mountain gorillas in Bwindi Impenetrable Forest (a World Heritage Site) is not easy, it's certainly not cheap, but it will provide memories for a lifetime. Looking into the gentle eyes of a gorilla mother nursing her baby is a transcendental experience.

Mountain gorilla treks can take up to six hours and involve strenuous hikes up muddy mountainsides through the rainforest—-or they can be a ten minute stroll up the road, depending on where the gorillas decide to spend the day. You go in a small group (no more than The nightly rate is $322 per person inclusive of all meals, drinks, and laundry. Guide fees and permits are not included. Kayonza airstrip, served by charter flights, is forty minutes away.six visitors) accompanied by rangers and porters and are allowed to spend an hour with the people-habituated gorillas once the scout guides find them. The permit costs $500 per person per day (it's suggested you book two days since there is no guarantee you'll find the gorillas!), but they sell out months in advance, so make your reservation early. Your fees are what make preservation of the nearly-extinct gorillas possible, which helps ease the blow to your bank account.


You can also hire a guide to take you through a nearby village to visit a traditional healer who sells a herbal version of Viagra, a woman who makes banana gin (you gotta try it to believe it), and a settlement of the Batwa, commonly known as pygmies, who put on a cheerful exhibition of traditional songs and dances. They're delighted when you join in the fun.

Gorilla Forest Camp makes an excellent base for your experience. Your cabin (one of only eight on the property) is a secluded permanent tent with a huge attached bathroom and 24-hour valet service. Honeymooners receive special treatment like hot bubble baths strewn with flower petals and surrounded by scented candles waiting for them when they come back from their day tracking gorillas in the mountains. A special honeymoon surprise (don't tell anybody!) is dinner for two cooked on site in a secret location by a dedicated chef and served by a personal butler.

Dave Donelson, author of Heart of Diamonds a romantic thriller about blood diamonds in the Congo

Travel everywhere from your living room with a dish network dvr receiver from SatelliteDish.tv, where you can find satellite tv reviews of hdtv receiver dvrs, satellite hd receivers and even a directv satellite receiver!