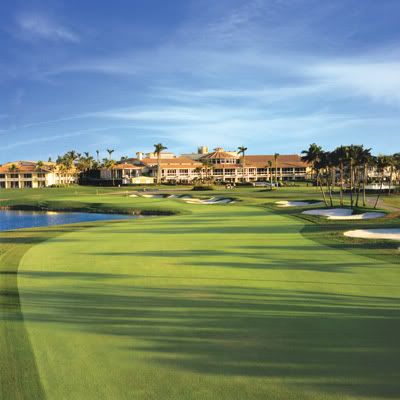 Doral Golf Resort and Spa is an oasis of luxury in the South Florida sun for golfers and their families. Guest rooms and suites are in lodges arrayed near the main clubhouse, and the Spa at Doral can only be described as palatial.

There are loads of activities for the family, too, with Camp Doral offering everything from Arts & Crafts to Volleyball. It's next to the Blue Lagoon, where the whole family can enjoy the beach-entry pool, 125-foot waterslide, and 20 poolside cabanas with amenities. There are eight restaurants on the property, ranging from the Java Zone coffee counter to Windows On The Green, which serves fresh seafood and American cuisine with South Florida and Caribbean accents. There's also an unheralded but not to be missed sushi bar, too.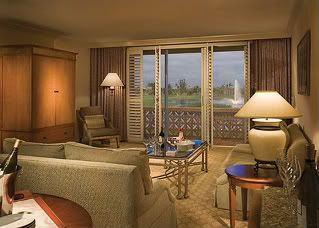 There are five courses at the resort, but the must-play track is the Blue Monster. It reminds me of a mugger in a Brooks Brothers suit--it looks harmless but it will hurt you when you least expect it. The 7,288-yard (from the tips) home of numerous PGA Tour events looks benign on paper. From the blue tees, only four of the par fours are over 400 yards and the longest is 416. The 131 slope isn't even particularly daunting, so you stand on the first tee expecting to put some good numbers on the scorecard.


The gem of the track is the 18th hole, which played to a PGA Tour-toughest 4.625 stroke average at the 2007 WGC-CA Championship. From the mortal tees, it's only 414 yards! But when you play it into the wind, it's more like 474—with water on your left all the way until it cuts almost all the way across the front of the green to drown any hope you may have had of getting home in two. Your trials and tribulations aren't over when you finally make it to the green, either—Mark Calcavecchia putted right off it into the water last year. It makes you wonder how even Tiger Woods won here three years in a row (2005-2007).

Doral Golf Resort & Spa
Miami
(800) 713-6725
www.doralresort.com
Nearest airport: Miami (15 minutes)
Golf package: $594 includes room and breakfast, one round on the Blue Monster with forecaddie for one golfer, and other amenities. Also a one-hour introductory golf clinic at no additional charge.

Dave Donelson, author of Heart of Diamonds a romantic thriller about blood diamonds in the Congo

Watch TV from anywhere in the world with the international dishnetwork deals at SatelliteDish.tv!